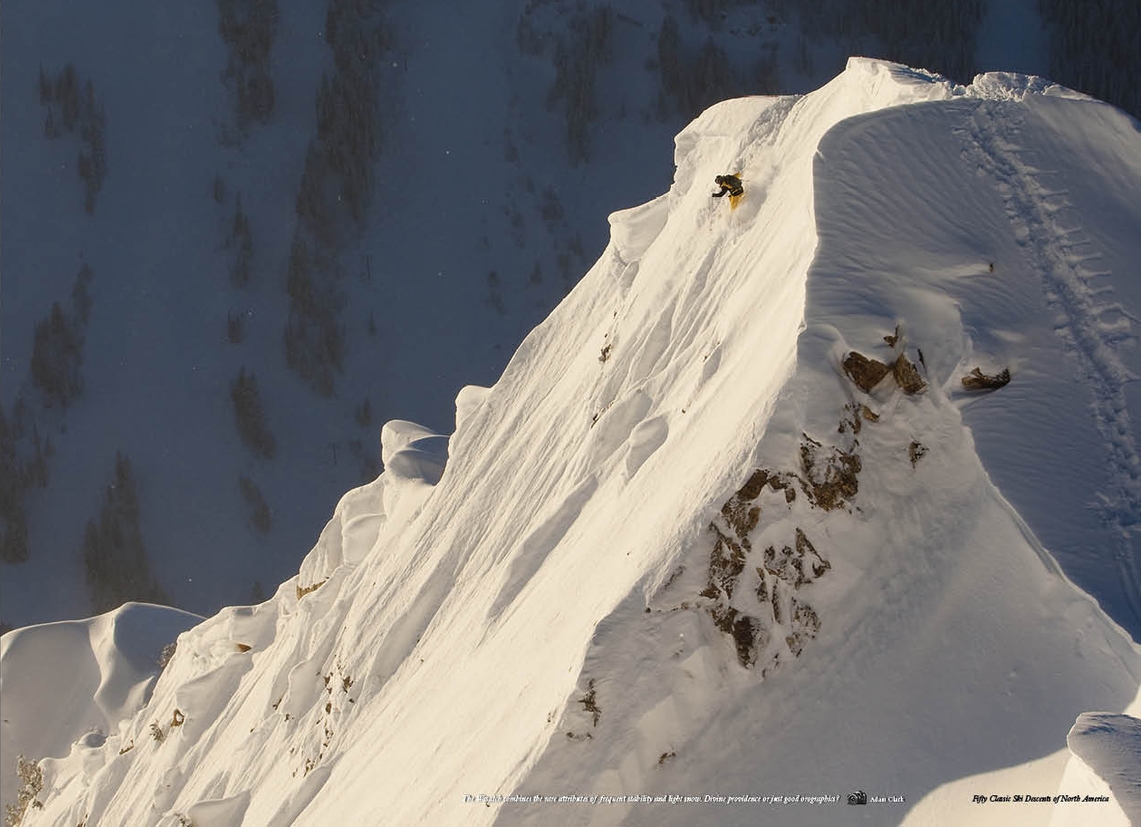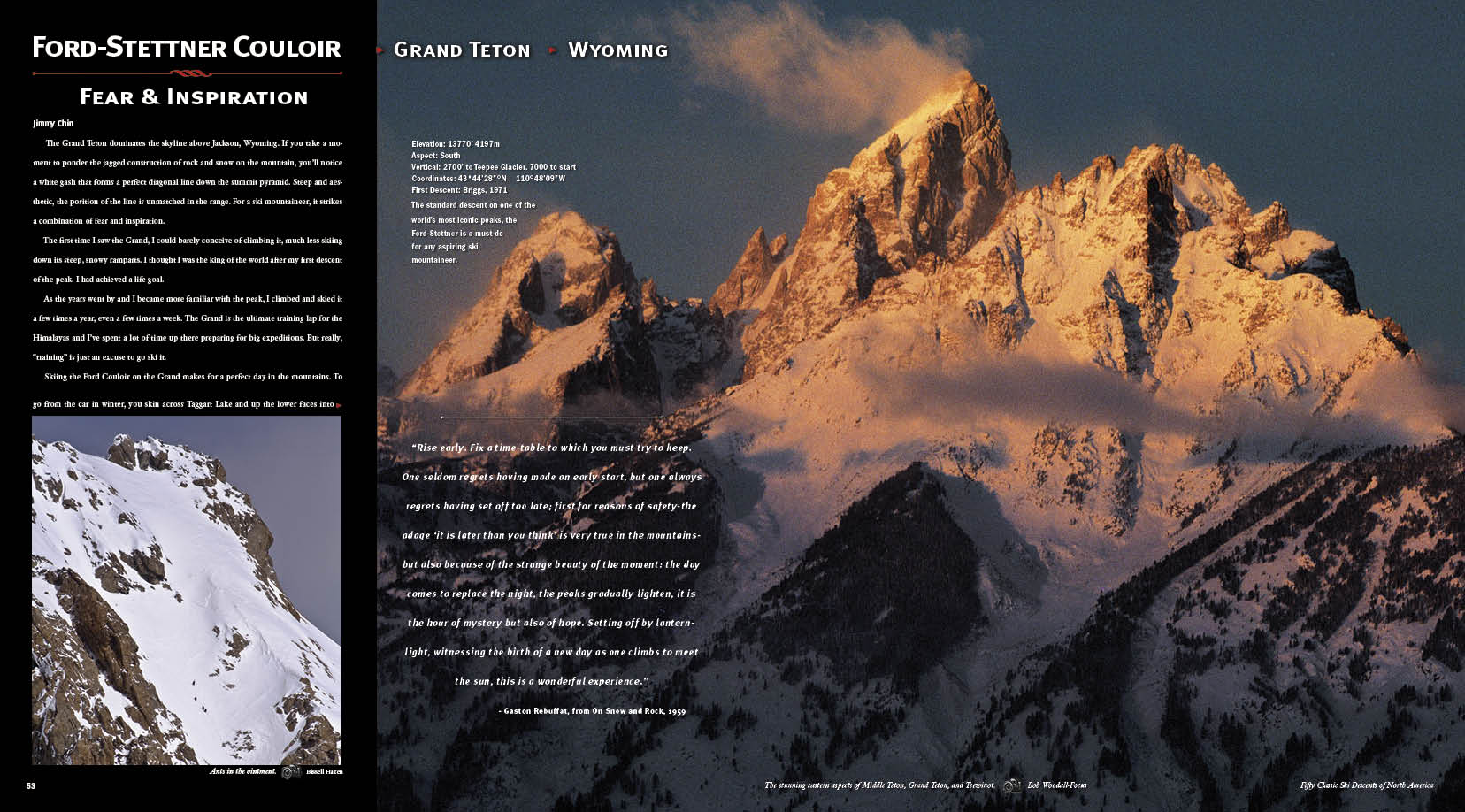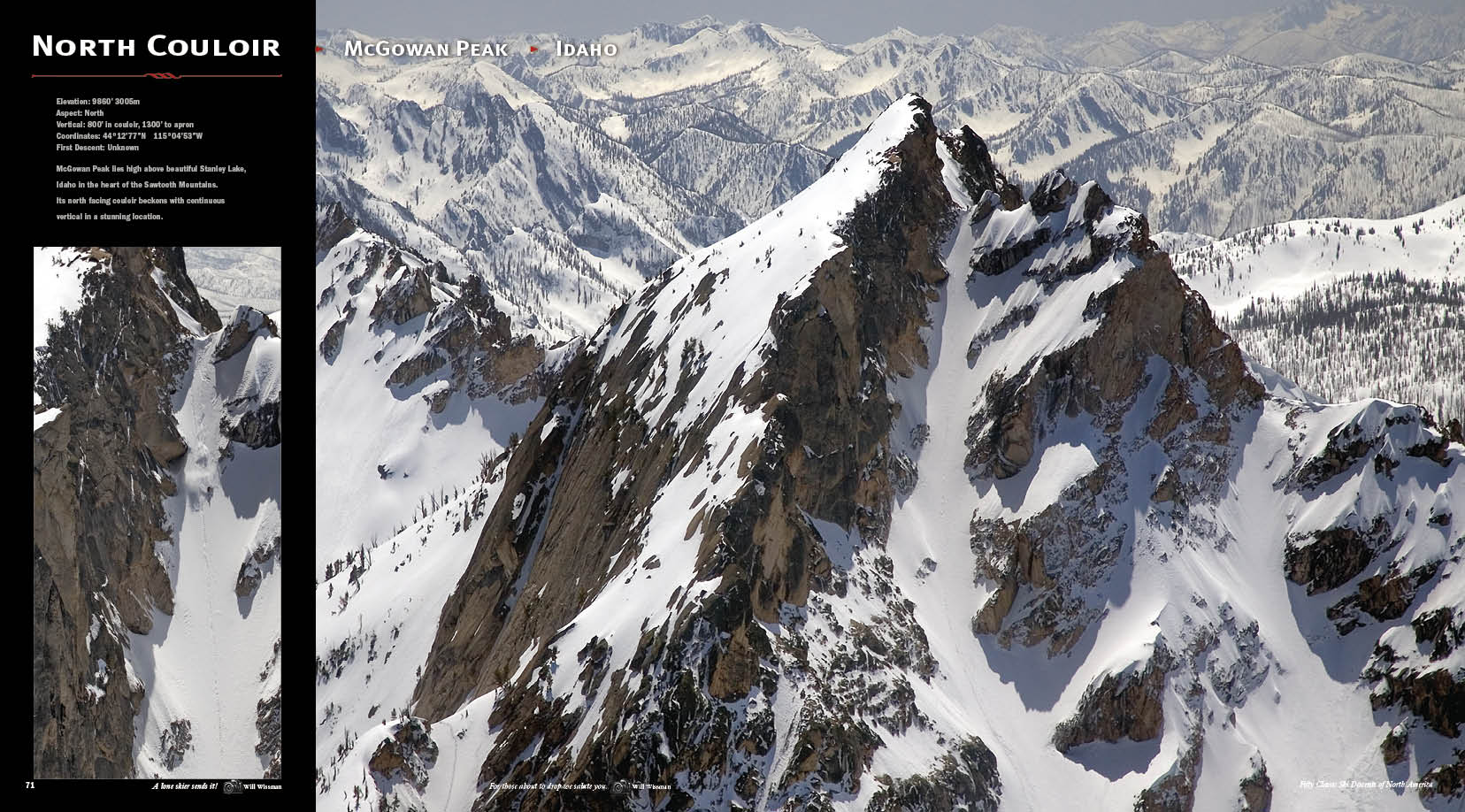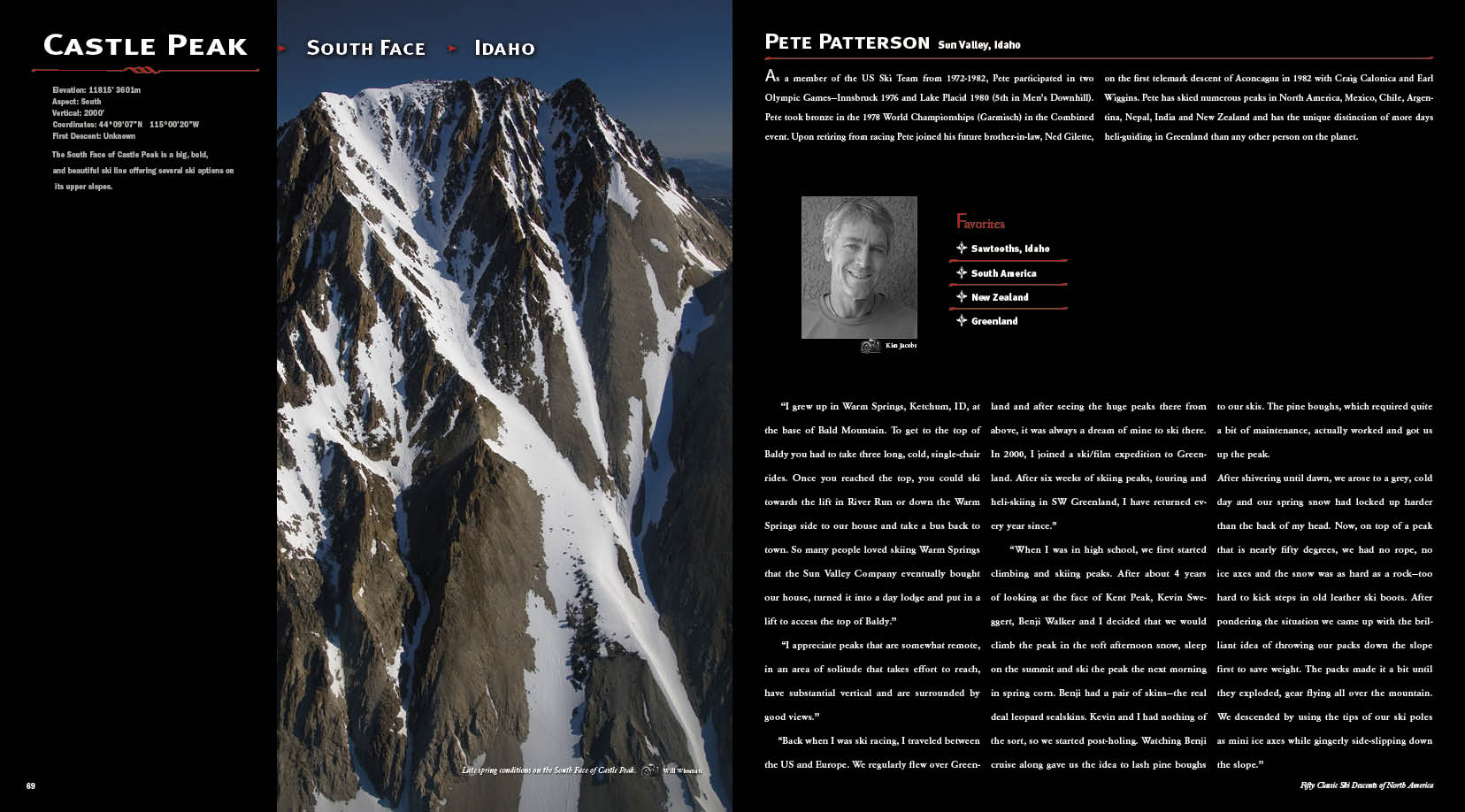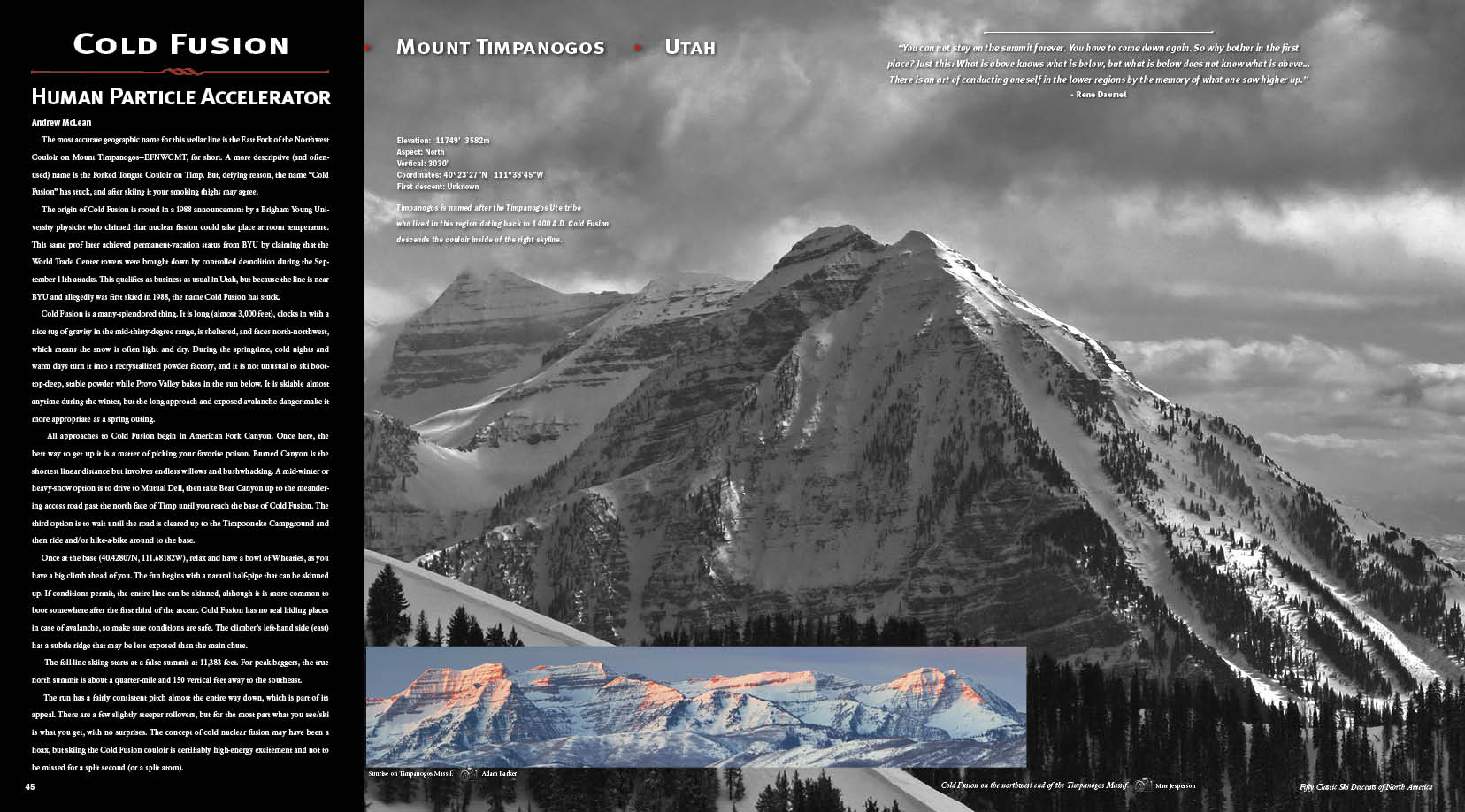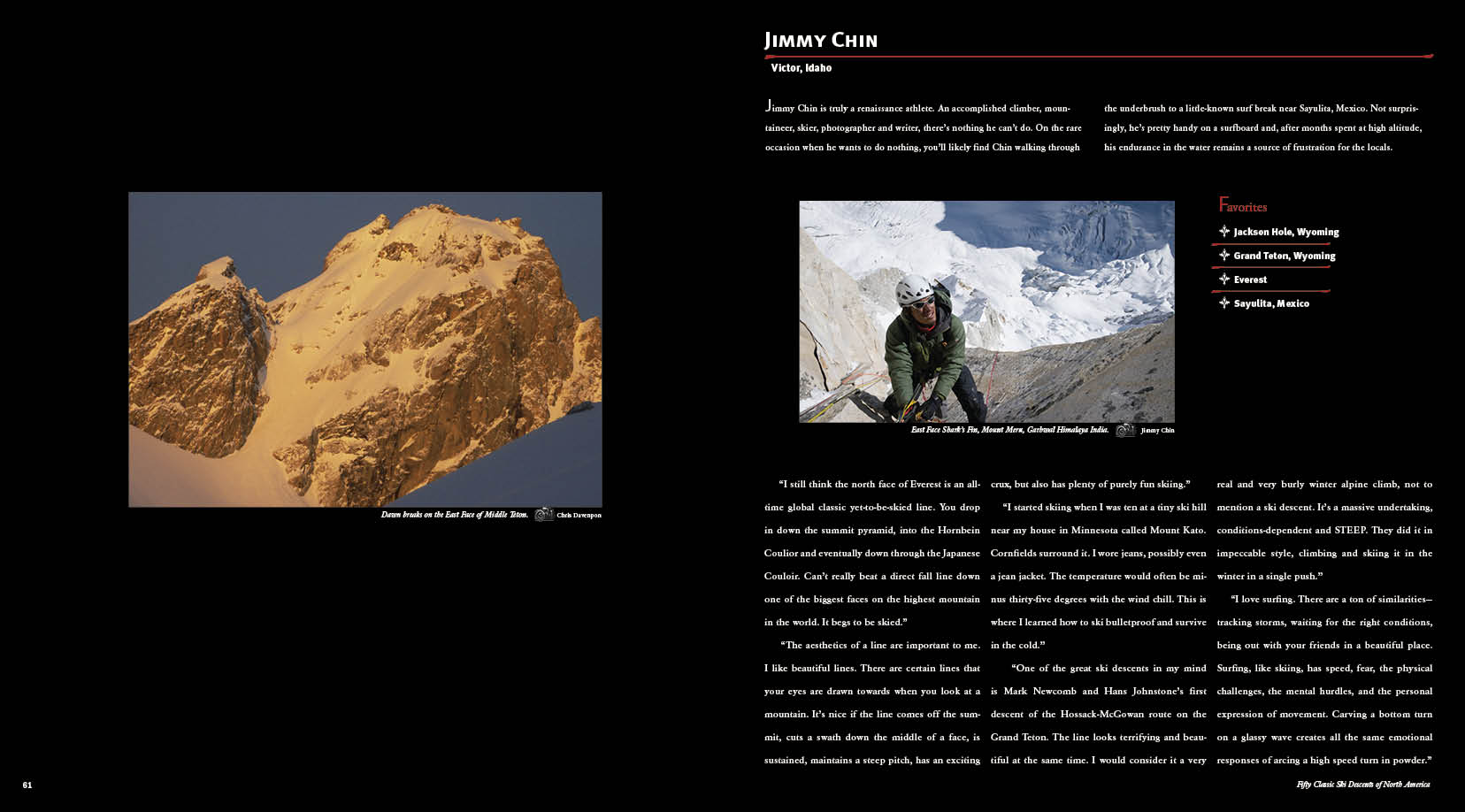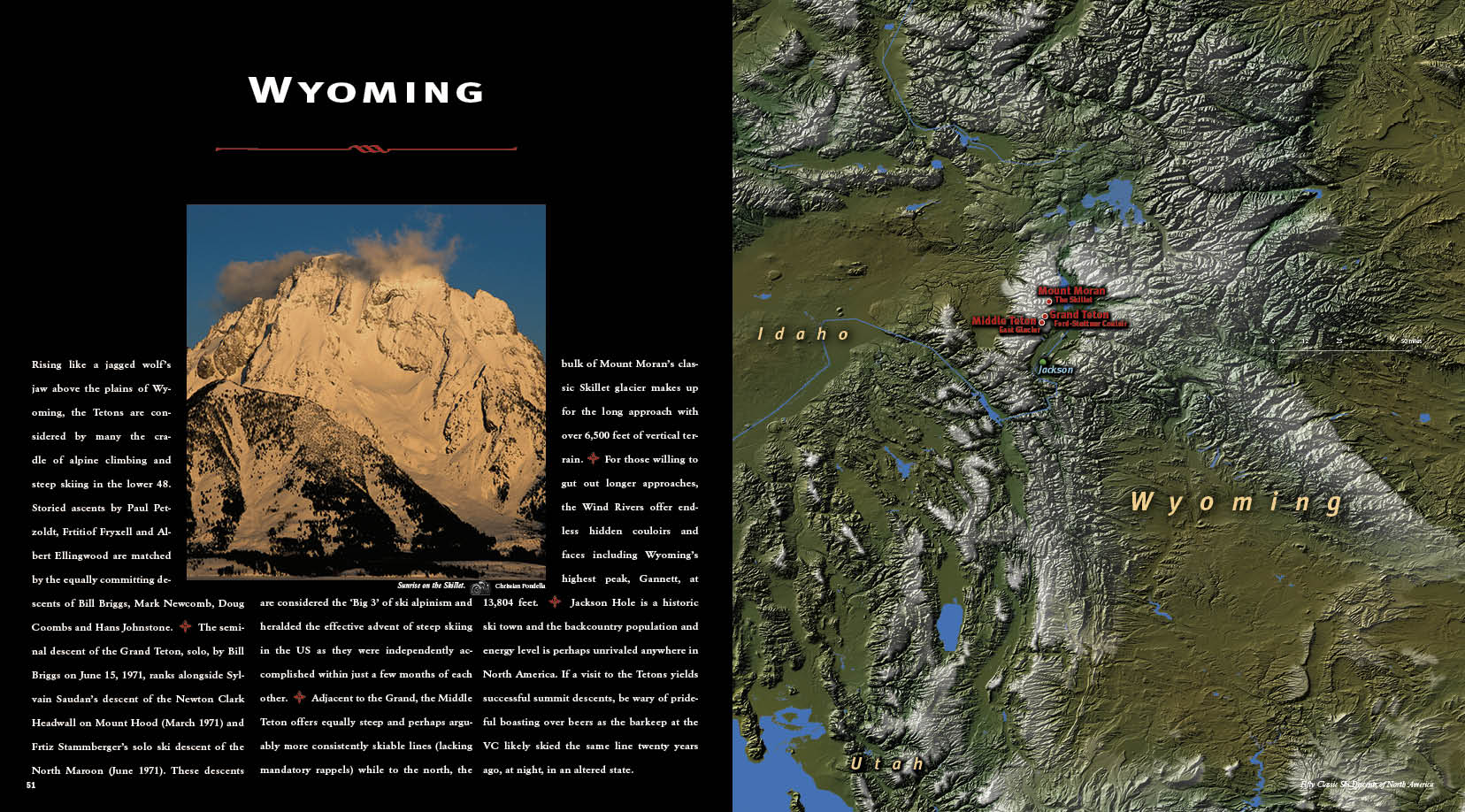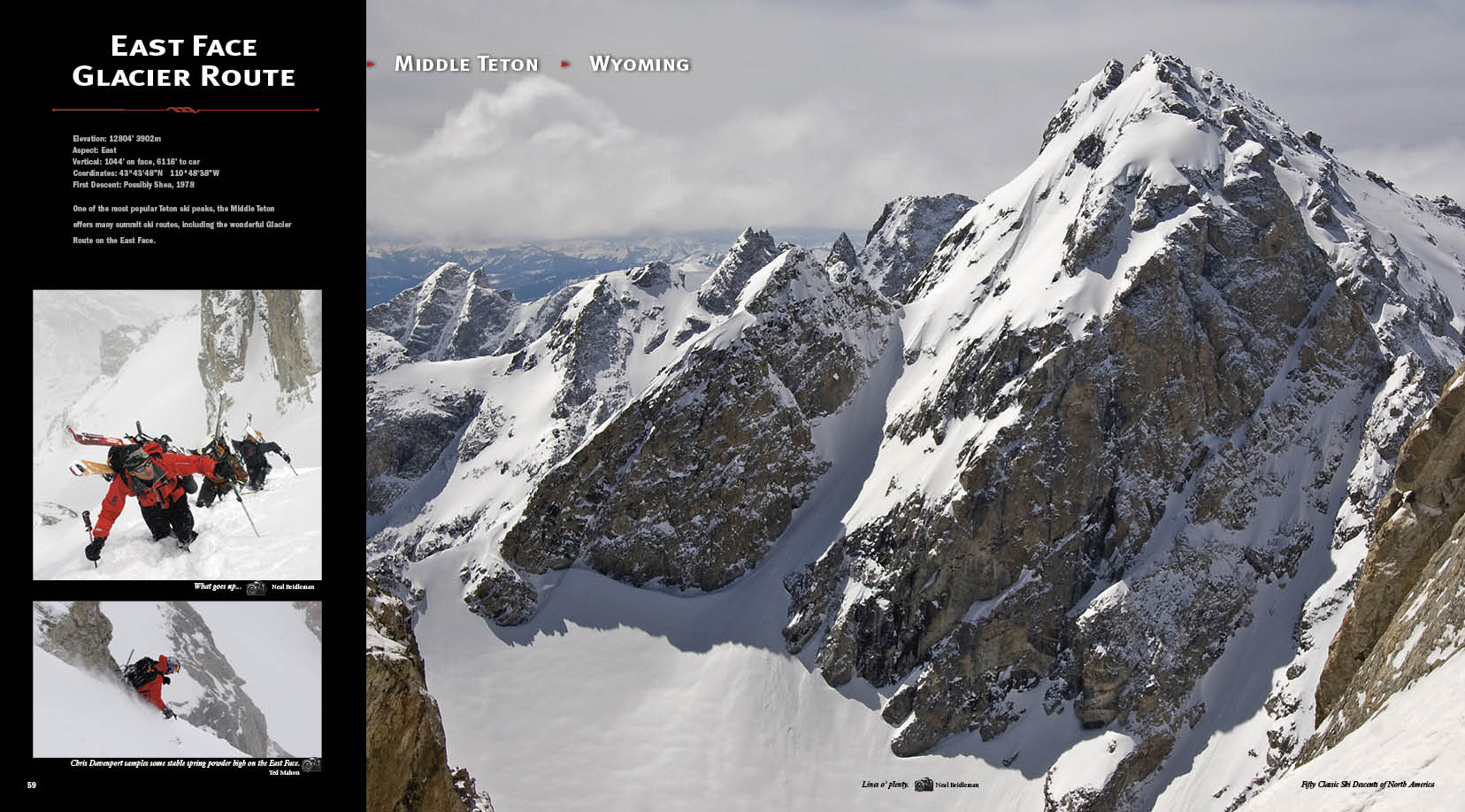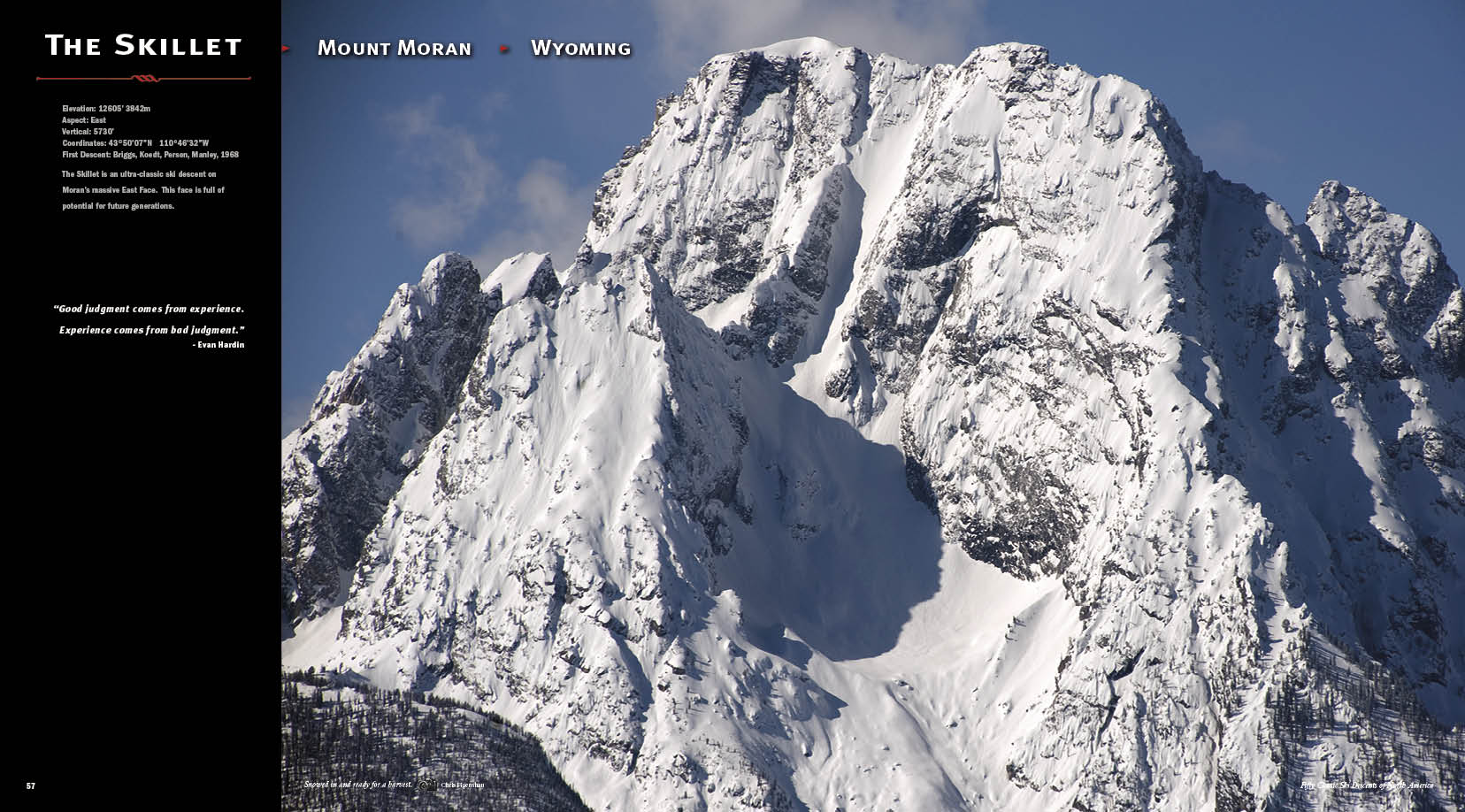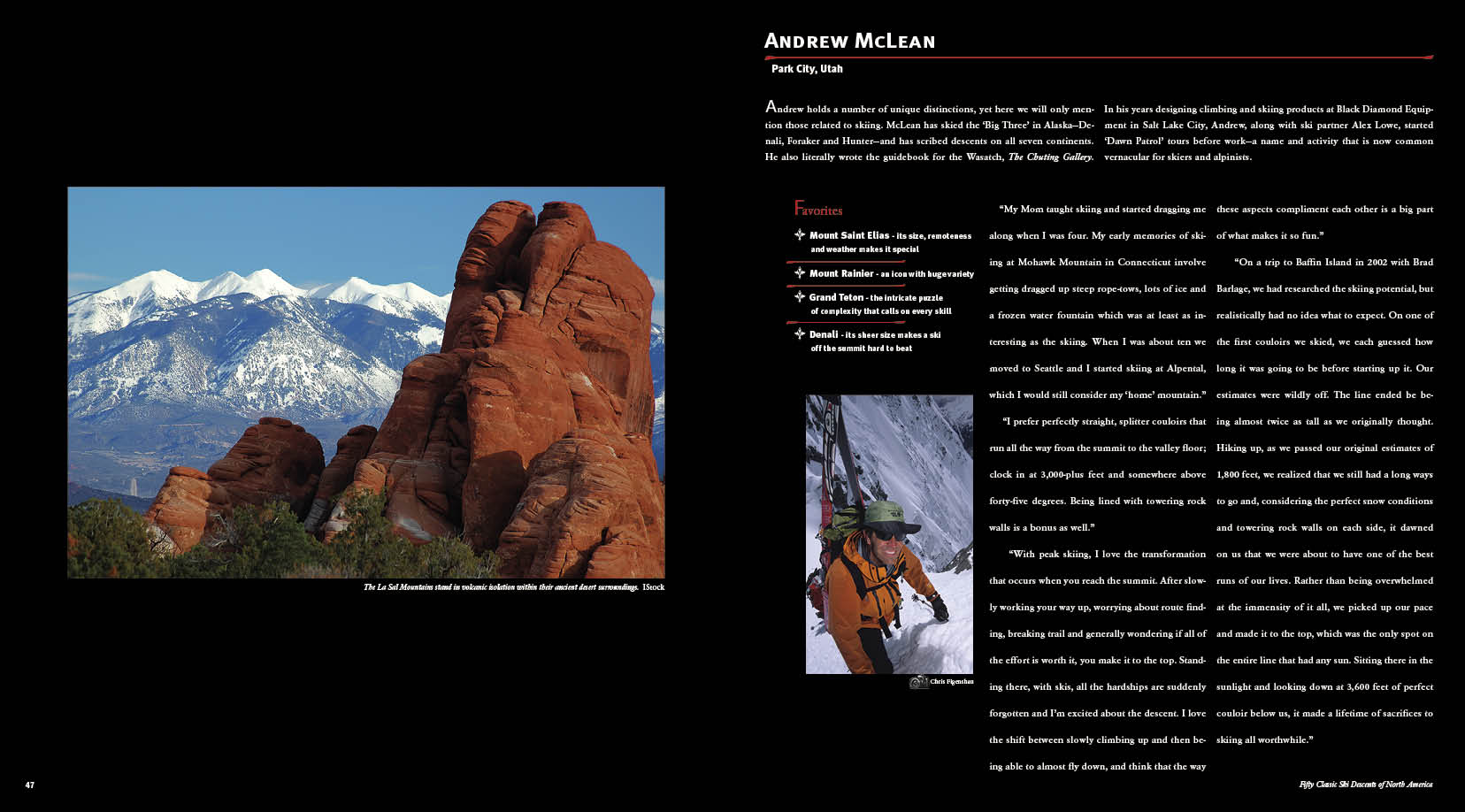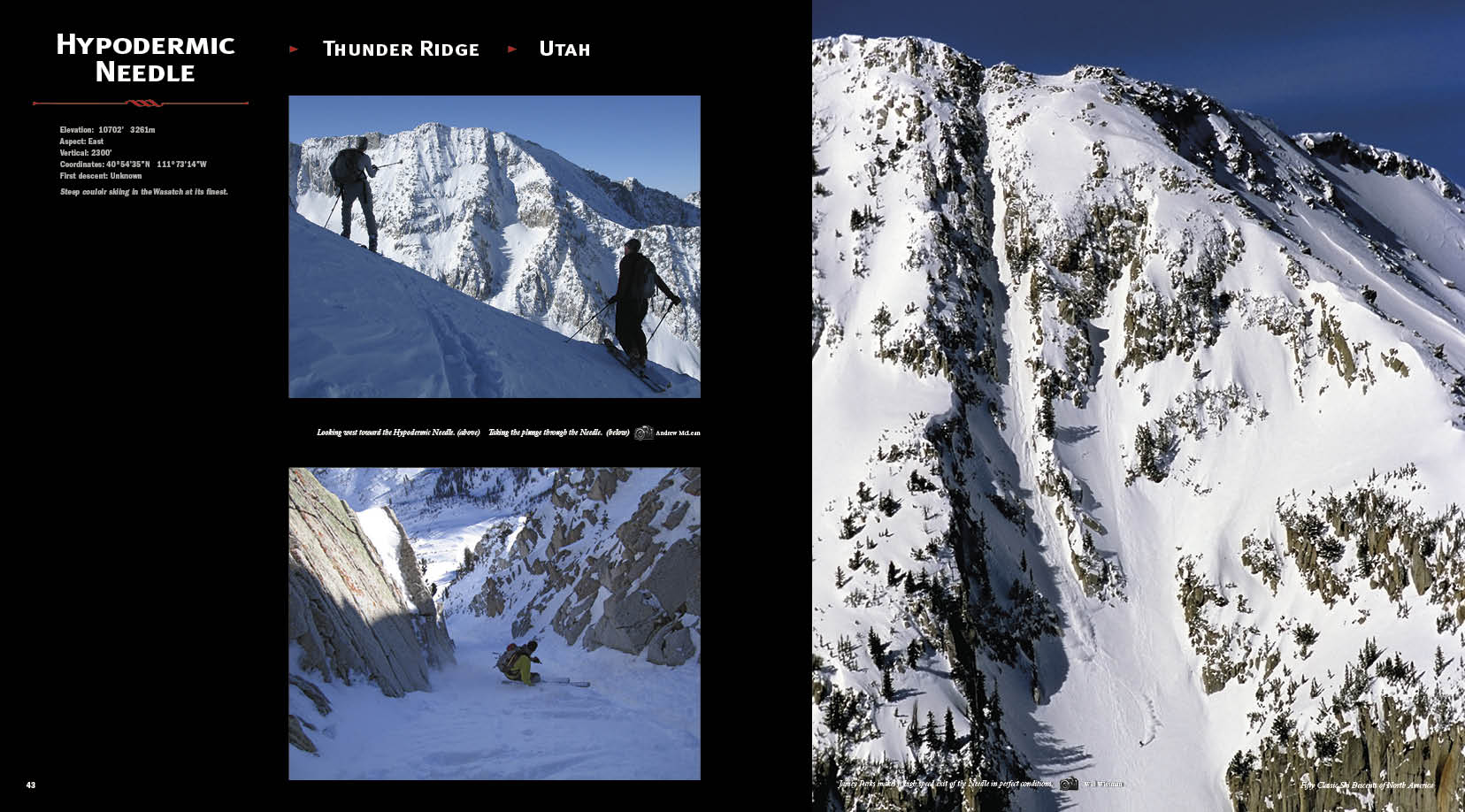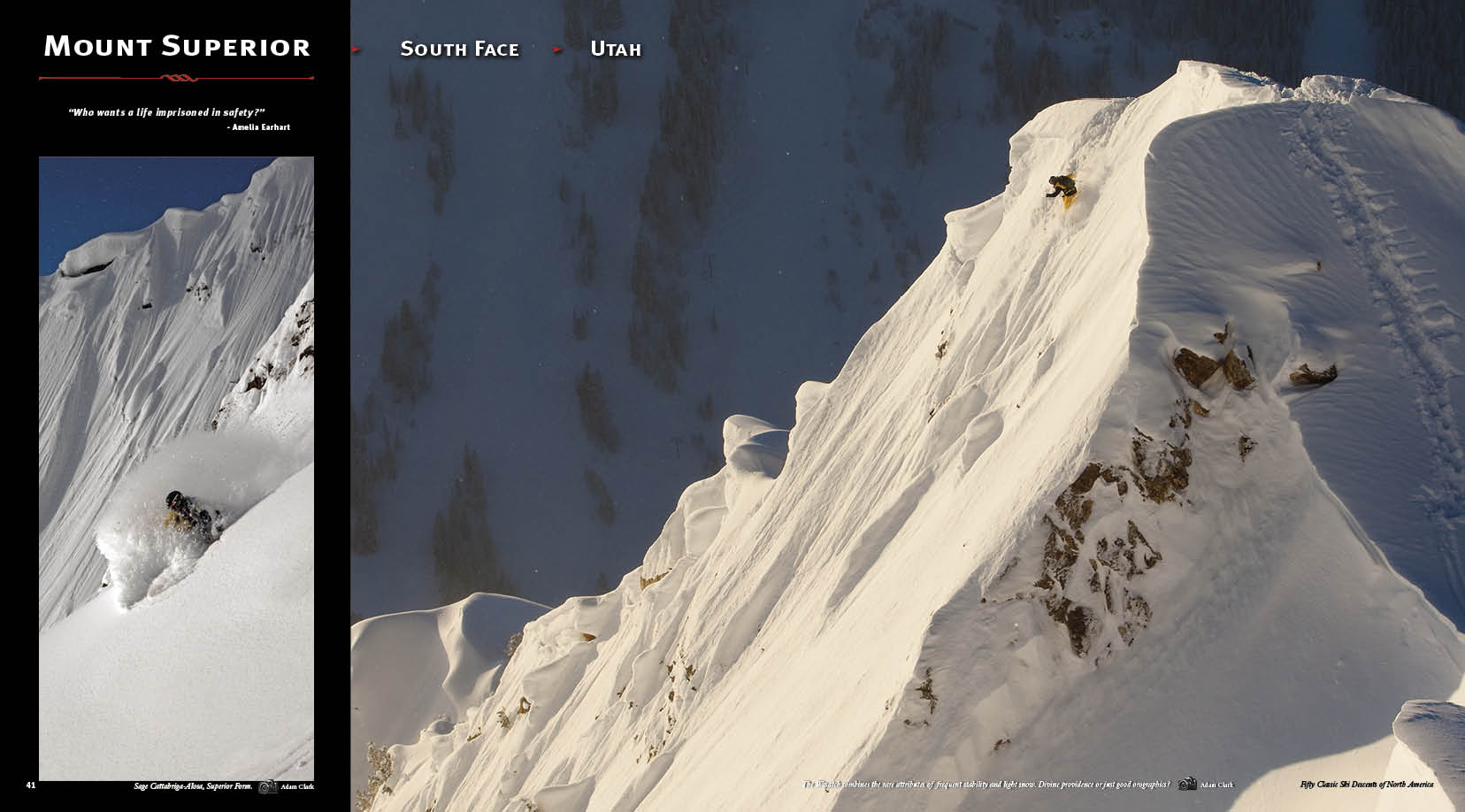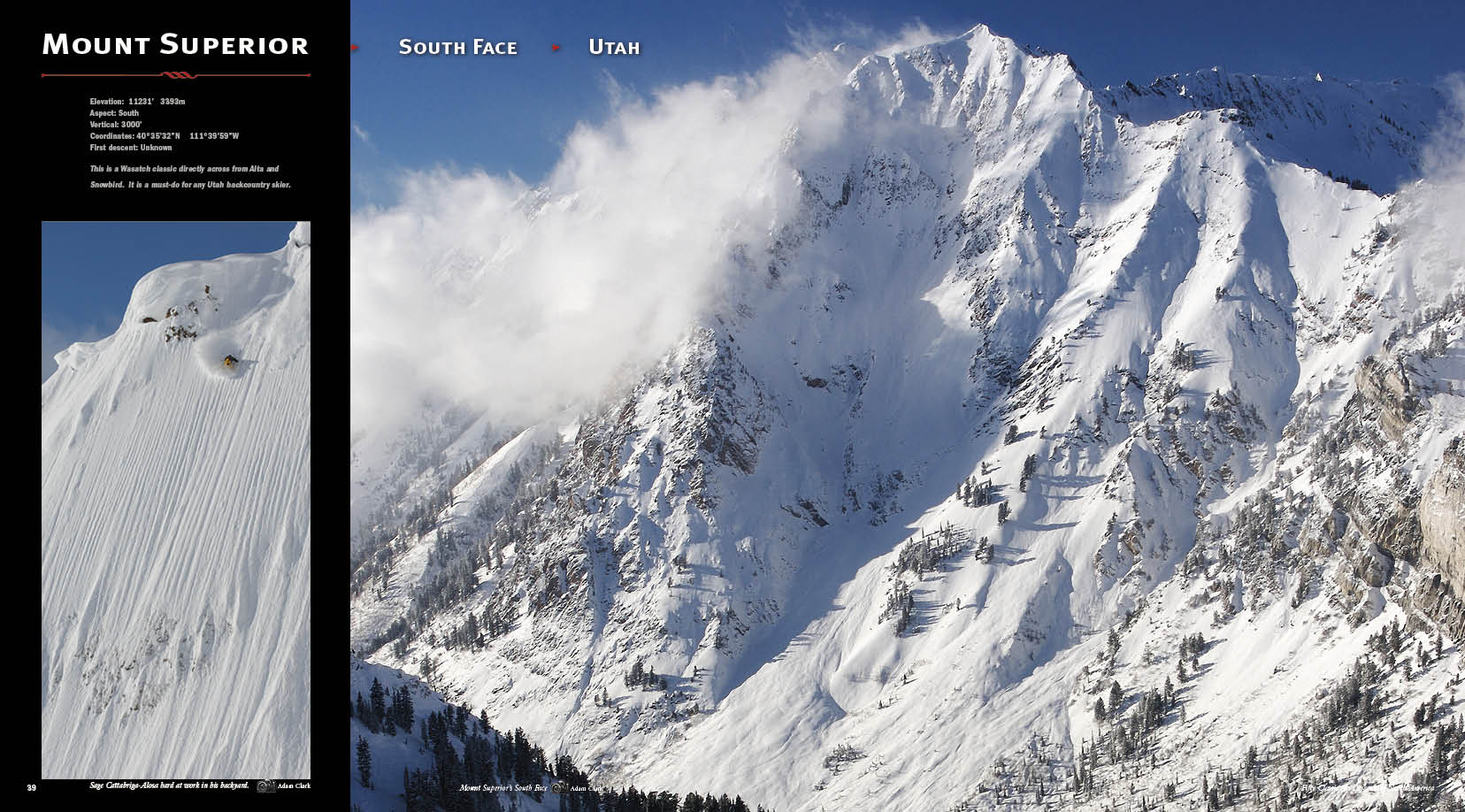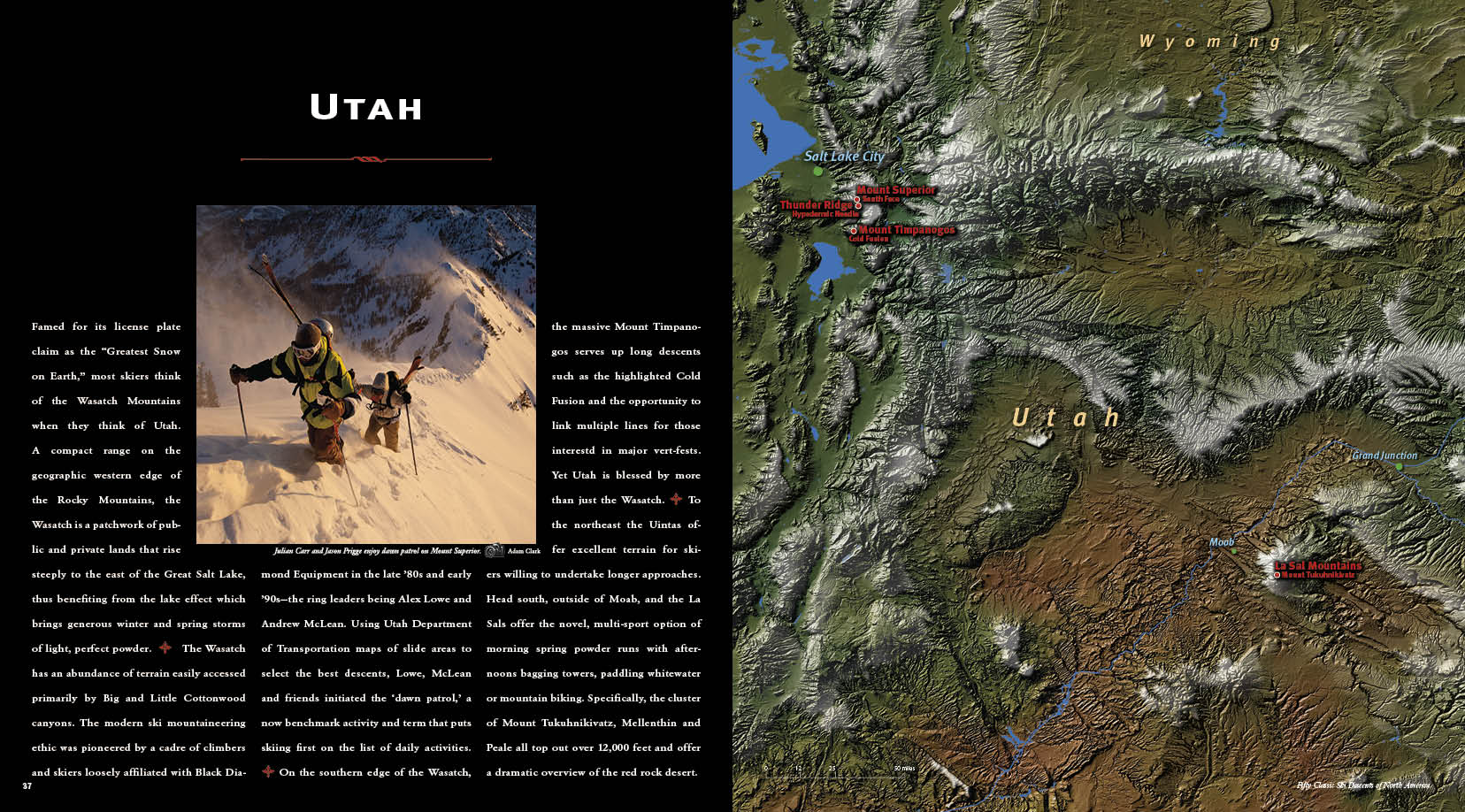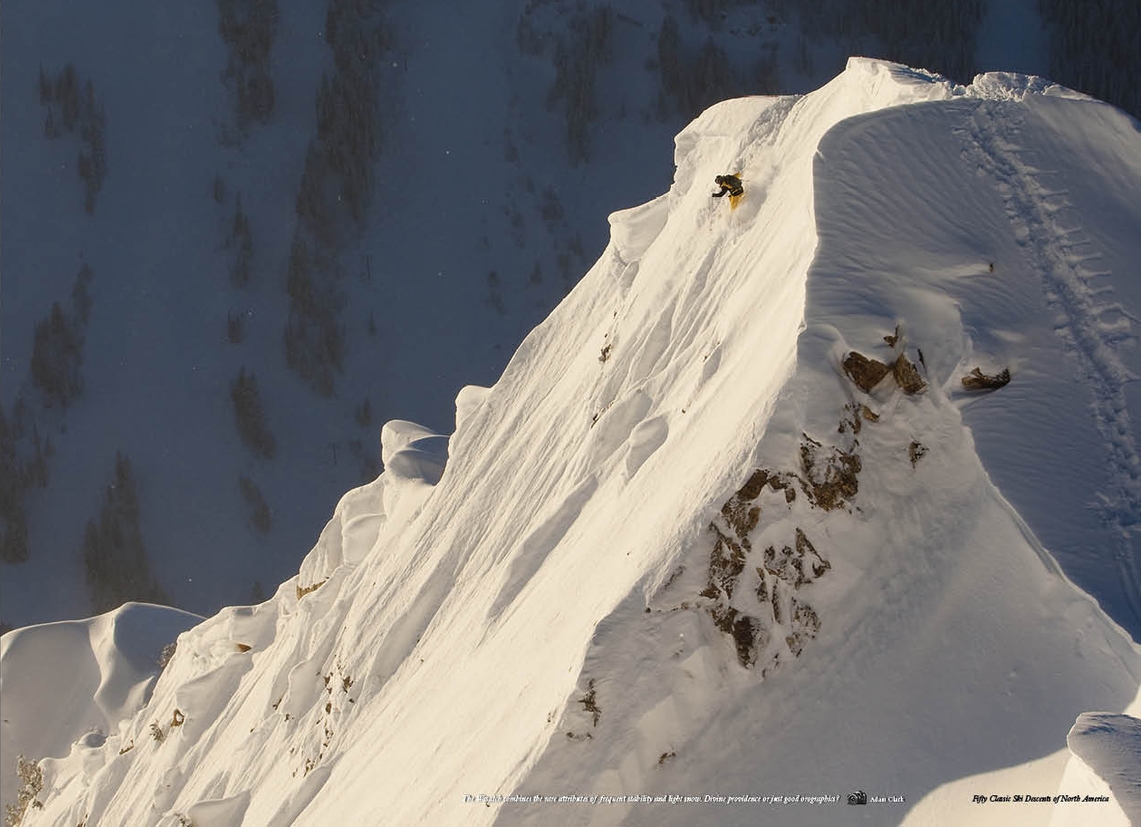 Sage Cattabriga-Alosa does Mount Superior's South Face justice
Adam Clark Photos: Adam Barker
Elevation: 11231' 3393m
Aspect: South
Vertical: 3000'
Coordinates: 40º35'32"N 111º39'59"W
First descent: Unknown
This is a Wasatch classic directly across from Alta and Snowbird. It is a must-do for any Utah backcountry skier.
Perhaps the most over skied descent after Tuckermans, Superior still offers one of the best descents anywhere if you get first on a cold, clear, crisp morning in the Wasatch. The main difference between this and an Alaskan descent is you will have an audience of critics waiting at Alta/Snowbird if you pooch it.
The Devils Bedstead - Idaho
Elevation: 11865' 3616m
Aspect : North
Vertical: 2400'
Coordinates: 43º79'87"N 114º15'15"W
First Descent: Unknown
The North Face of Devil's Bedstead is well known to locals in Sun Valley and is easily accessible once the road over Trail Creek Summit opens up in spring.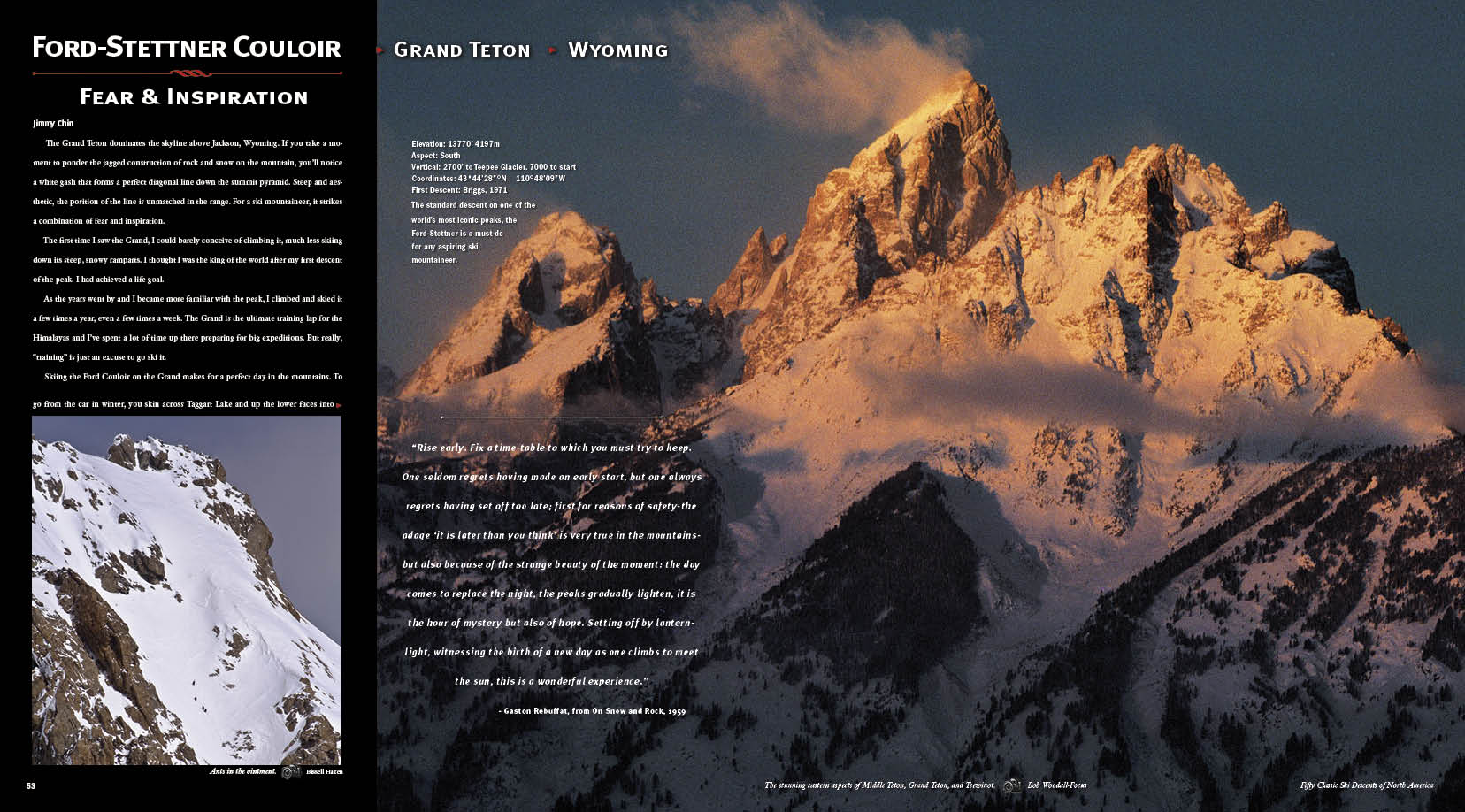 Grand Teton
Jimmy Chin - The Grand Teton dominates the skyline above Jackson, Wyoming. If you take a moment to ponder the jagged construction of rock and snow on the mountain, you'll notice a white gash that forms a perfect diagonal line down the summit pyramid. Steep and aesthetic, the position of the line is unmatched in the range. For a ski mountaineer, it strikes a combination of fear and inspiration.
The first time I saw the Grand, I could barely conceive of climbing it, much less skiing down its steep, snowy ramparts. I thought I was the king of the world after my first descent of the peak. I had achieved a life goal.
As the years went by and I became more familiar with the peak, I climbed and skied it a few times a year, even a few times a week. The Grand is the ultimate training lap for the Himalayas and I've spent a lot of time up there preparing for big expeditions. But really, "training" is just an excuse to go ski it.
Skiing the Ford Couloir on the Grand makes for a perfect day in the mountains. To go from the car in winter, you skin across Taggart Lake and up the lower faces into • Garnet Canyon, continuing through the meadows and past the Jackson Hole Mountain Guides' high camp. Front-point or break trail up the Teepee Glacier and then climb up technical ice and rock through the Chevy. Eventually you get to the bottom of the looming and seemingly endless Ford Couloir. From there, you kick steps to the summit.
Your legs feel like jelly just in time to step into your bindings for the skiing. You've climbed almost 7,000 feet from the car, which means a lot—a lot of elevation to be lost on skis. There are a few exposed spots and a couple of rappels or down-climbs that get your heart rate up, but all in all it's a manageable ski descent. You get it all: a beautiful tour, technical ice and rock climbing, steep skiing, powder or corn skiing, and, inevitably, an amazing experience. If swinging your ice tools in the Chevy high above the valley with skis on your back makes you feel like you're on a real adventure, it's because you are. You must set aside the thousand and one reasons to turn around.
Every time you get up and down the Grand is a gift.
Ford Stettner Couloir
As Jimmy Chin explains the Grand is an undertaking which challenges one's mind prior to any successful attempt. For some it could be too much, for others...
"It was obvious we had really undertaken too much, but for honor's sake we must see it through."
- Lionel Terray
Idaho • Montana
Sandwiched between Stanley and Sun Valley, Idaho, the Sawtooths offer sleek couloirs and open faces for steep skiing aficionados. As part of the Rocky Mountain chain that serves as the backbone of North America, the Sawtooths, White Clouds and Pioneer Mountains offer scenic backdrops and exceptional objectives. • Idaho's open valleys give way to distinct peaks such as Hortsmann, Castle and the Devil's Bedstead offering a lifetime of skiing and touring. Ideal for spring tours, uncrowded and pristine—this zone is populated by stunning alpine lakes, hot springs, exceptional climbing, fly fishing and whitewater. • In contrast to the rich ski history of Sun Valley – which was originally developed by the diplomat Averell Harriman and the Union Pacific railroad – the rugged and tight-lipped nature of Montana skiing best serves those who embrace the adventurous side of exploration. • The Beartooths and Absarokas stretch from the Wyoming border across Yellowstone with over forty-six peaks over 12,000 feet. • To the west, the Bitteroots frame the state spilling across the Idaho panhandle. Pioneered by skier/climbers such as Alex Lowe, Hans Saari and Kristoffer Erickson, Montana offers a wealth of bounty for those who embrace uncertainty in terms of weather, long approaches and big lines.